Workshops
Sweet Surrender | Year End Retreat with Simon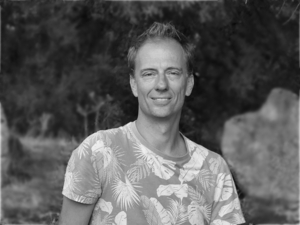 les wordt gegeven door
Simon Rowe
Sweet Surrender
Year-end retreat between Christmas and New Year


Pause - feel - heal
Take your time between Christmas and New Year to step back, feel, to pause and to heal. Join Simon on a magical one day journey with slow and soulful yoga, breathwork and movement meditation, dharma talks, mantra magic and sound healing.

**This retreat day includes a delicious shared lunch prepared for us in the comfy 'huiskamer' at the school. We will enjoy a long 90 min lunch break giving time for a walk along the canals or a relaxing time-out in the school's lovely garden and lounge.



Embrace
Embrace what best serves you and release what you no longer need so you can close your year beautifully and set your intentions for the start of a new cycle. Simon offers this one day immersion for you to enjoy gentle lunar practices that will invite you into a state of ease and surrender.
Explore
Explore deep stress release through gentle yoga, breath and movement practices Deepen your journey and embrace your truth during inspiring dharma transmissions and soul activation. Free your voice to free your soul during the moments of mantra magic. Let yourself relax totally during the sound baths, opening yourself to the healing sounds and connecting to the wisdom within your own heart.


Connect
Give yourself the gift of this You-time to explore these transformative practices as a way to connect to your heart and align with your own inner wisdom.


Om Shanti _||_


What to bring
Comfortable (looser fitting) clothing.

Shawl or cloth/ light blanket for covering yourself.

Tea flask/drink bottle that closes and seals to avoid spillage.

Writing materials for journalling or drawing.

Programme
29 December | 10:00 - 17:30
(Doors open from 09:30 - Please arrive early to set up and start on time)

Morning session 10:00 – 13:00
Lunch Break 13:00 - 14:30
Afternoon Session 14:30 - 17:30


About Simon - ERYT 500 & Yacep


Simon is a senior flow teacher & teacher trainer. He has developed his own signature style of teaching inspired by his life long study of Yoga, breath and movement based practices. Simon invites students to give themselves fully to the flow experience and to dive deeply into the mystical teachings of Yoga as a tool for transformation. He offers refined teachings on breath, flow and movement meditation. Simon's motto is 'Live your love and embody your freedom' Simon's trainings are hosted by the New Yoga School. As a lover of life, nature and the spirit of freedom, Simon enjoys travelling to study and to share his teachings with others.

Shanti Flow Training program
Relax, recharge and regenerate. Explore the healing and transformative effects of nourishing (lunar) flow practices. Simon's Shanti Flow teachings offer a pathway for integrating movement and flow into gentle, lunar Yoga practices. Learn how to nurture your lunar (yin) quality with gentle and harmonious breath and flow sequences. Simon offers his Shanti Flow Teacher Training at De Nieuwe Yoga School each year. See all info and upcoming dates HERE


Date: Friday 29 December, 2023
Time: 10.00 - 17.30 hr
Place: De Nieuwe Yogaschool, Amsterdam
Price: 95,00 including lunch