Workshops
Yin & Touch with Deborah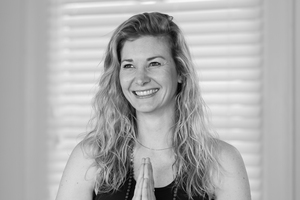 les wordt gegeven door
Deborah Hoeks
Yin & Touch



Healing and reconnecting (with yourself and others) through the art of movement and touch. How to approach, set your own energy/ focus to touch others and how to heal yourself through loving touch.

Get back in Touch with yourself:
(re)connect through gentle Yin Yoga and teachings on Healing through Touch.
Yoga is about learning to focus your mind and being present with all your senses.
One of the senses is Touch. Drawing our senses fully to touch is bringing energy and connection.
Exercises and meditation to practice our conscious healing of touch. Topped up by a long YIN & TOUCH session to care for yourself in places from the inside by breath and outside by gentle touch. We will explore by meditation on specific parts of our physical body and sending energy there to heal and create space. DOUBLE HEALING while BEing present in your Yin pose 

Finishing with a long savasana – guided by a mini-massage of healing hands to help one another - a deep physical relaxation.
The power of self-touch in silence and full attention, is reconnecting with your body and soul..

How?
Exercises, practical information on energy and conscious Touch, Yin yoga and Touch

Why?
The essence and importance of touch is an often forgotten healing- and preventative method in our Western society. Touch is essential for our health, although often considered as a luxury while thinking differently will bring you a painfree (long) life as luxury! We nourish all our other with food, sound, smells, imagery- and our minds are constantly stimulated. Our biggest sense organ of our body left out, all the layers of our skin! When we are able to listen to the signals of our body and we create space and fluidity, we are able to connect with our inner true Being and live our full potential with joy.

About Deborah
More than a decade I am working as a yoga teacher and massage therapist. Pure interest since a young age in sports and anatomy made me – during my career in (sports)marketing and communication-  dive deeper in the research of the physical body and developed a new passion in life combined with a spiritual practise. 
I am a mom of 2 beautiful boys and nurturing them with loads of love. In daily life we all have our struggles and rushing from here to there with a fluctuating stress level. Bringing this stress level down as often as possible is key to stay healthy. Bringing back the presence and full attention to what we do or experience is a way for me to balance my life.
Meditation and yoga are tools that I use myself daily and wish to share these with my surroundings to bring back attention, space and movement into our lives and bodies.Yoga is like massage from the inside, shining a light on our inner world and body. 
Massage – especially Alchemy of Touch- is an art that helps you to (re)connect with your inner world. I am in love with the art of touch which is helping people from the outside to transform the inner world back to its essence and becoming aware of what is happening inside their bodies and mind. 
Mission:
 To help humanity to re-connect with themselves, in our full Being. Remembering that our existence and happiness is when our mental, physical and spiritual bodies are aligned. Seeing and feeling our true nature of love and light. 
Restoring our universal minds and raising our consciousness.
For all levels and interested in Touch, Yoga and healing through touch.
Date:
 2 December, 2022
Time:
 18.30 - 21.30 hr
Place:
De Nieuwe Yogaschool, Amsterdam
Price: 40,00