Workshops
The Art of Flow met Simon Rowe 50 uur training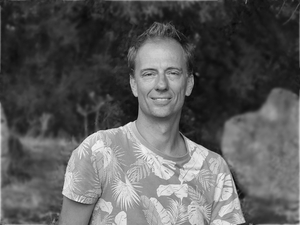 les wordt gegeven door
Simon Rowe


Advanced Study (50 hr): The Art of Flow with Simon Rowe

fluid pracice, energetic alignment & Breath-Work

Move beyond shape based Yoga as you learn to embody and teach the essential techniques of energetic alignment to bring energy, fluidity and grace into your practice and teachings. Learn how to create and sustain a state of flow and receive tools to support the flow of Prana, your life-energy, in each pose and in every phase of the class. Explore unique teachings on dynamic breathwork to awaken and harmonize the pulse of Prana during your practice. Discover the wisdom behind this organic, safe and intelligent approach too Yoga.  Learn how to cultivate a vibrant yoga practice and access your fullest potential through the inner practices of energetic flow. Simon offers inspirations and teachings from some of the leading pioneers in the global flow culture and his extensive studies with the Los Angeles based Prana Flow School.
This training can be done as part of the 100hr Radiant Flow Certification Program. Read more about the full training program here.


The fluid body and the healing power of flow 

Listen and learn to follow your body!s own wisdom instead of forcing or imposing shapes and poses on yourself. Learn to liberate your fluid body to experience the healing power of Flow as a meditation in movement.
"Learn to integrate dynamic breath-work and energetic activation into the flow of practice. Awaken the pulse of your life force, Prana! Experience the direct benefits of these practices to balance the flow of your life energy. Release stuck-ness and dissolve tension guided by your intuitive embodied intelligence. Become your most radiant self and learn to guide others to do the same!" ~ Simon


Sequencing in Flow 
Learn Radiant Flow namaskars and fluid sequencing pathways to move deeper into the experience of embodied Flow practice. Study creative pathways for integrating movement into the flow of yoga practice. Deepen your experience of Flow-based Yoga as a form of meditation in movement.
The Radiant Self 
Discover Yoga!s capacity to transform and ignite in us the passion for LIFE! 
Explore Sacred teachings on the Radiant Self and learn to access your energetic potency through Yoga. Experience how Yoga can support you to connect to your inner light, follow the way of your heart and live your freedom.


Teachings and workshops in this training: 

Learn to embody and cue poses through Energetic Alignment.
Study the foundations of energetic practice to cultivate and support the flow of
Prana during each phase of class.
Receive unique teachings on Dynamic Breath-work for Prana (energetic) activation
Receive teaching tools for deep stress release and de-armoring in flow.
Liberate the fluid body to experience the healing power of Flow.
Energize and deepen your asanas to reach their fullest potential by mastering the
inner practice of the energetic breath and activation of the 5 inner winds ( vayus)
Enrich your practice and teachings by deepening your knowledge of the energy
body (Prana, nadis, vayus & chakras)
Learn to engage the deep core and central axis of the body through fluid activation
of the inner energetic locks, (bandhas) in flow.
Learn to create intelligent, safe and effective sequences by understanding the key
actions and energetic lines of the poses.
Learn tools to support your students in-flow through offering dynamic assisting
techniques and effective kinetic vocal cues.
Learn to work with music as a tool for activating, inspiring and harmonizing to
support the flow and deepen the meditation-in-flow experience.
What you will receive: 

Printed module syllabus

Workshops and masterclasses to deepen your study and embodiment of energetic
flow-based practice.
Interactive tools, templates and Flow maps for the creation of energetic Flow
sequences
Energetic Asana mapping for study of the key actions and energetic lines of poses.
Online resources, videos and support.
Certificate of attendance for attendance of all sessions.
Certificate of completion (includes successfully completed assignment) for working
toward Radiant Flow certification or other Yoga Alliance registrations
(Interactive) lectures are offered in the theory and methodology of solar practice. Teachings are also explored in smaller groups with time for feedback and Q&A.

Program 

Enjoy this dynamic and innovative study option that gives you more flexibility and online resources to support you. The Live training is also supported by On-Demand video resources, Zoom conferences, assignments and personal evaluations.


Certification Options 
This 100 hour certification program consists of 2 x 50 hour trainings. Each training can each be done independently for students who are not following the full program. Students who complete both modules (including assignments) will receive the full certification.


Online support & certification 
This 50hr training is supported by online practices and teachings in a protected online course space available only to the members of the training. Simon supports you after the training is complete and offers back up support through zoom video calls. Simon offers individual evaluation of each student assignment through personal zoom meetings at the end of the training.


Certificate of attendance 
Students who attend all training hours of the module will be awarded a certificate of attendance.
(This certification option will not be suitable for students working towards 100hr Radiant Flow Certification, 300hr or 500 hr Yoga Alliance certification)


50 hour certificate of completion
Students who wish to qualify for full 50 hour certification are required to complete and deliver a satisfactory assignment as specified by the teacher.
As soon as we have received your payment, your place in the training is definitively reserved. Please read our terms of agreement  to make sure you are aware of all the details concerning your transaction?

Radiant flow certification program 2x 50hr  
This program consists of 2 x 50hr studies (100 hr in total) that can each be done independently. Want to know more about this program and certification? Click here >

About Simon
Want to know more about Simon Rowe? CLICK HERE for his resume.
Want to know more about Radiant Flow? CLICK HERE for videos.


Schedule:
Wednesday: 09.30 A.M - 5.30 P.M
Thursday: 09.30 A.M - 5.30 P.M
Friday: 09.30 A.M - 5.30 P.M
Sunday: 09.30 A.M - 5.30 P.M
Monday: 09.30 A.M. - 5.30 P.M
*Note: Saturday is a day off
Dates:
 14, 15,16,18,19 June 2023
Price:
€ 525,- ex VAT / € 635,25 inc VAT.
Place:
Amsterdam, De Nieuwe Yogaschool

Language:
English / Dutch